C-Series Access Switches: Support Your Mission Critical Applications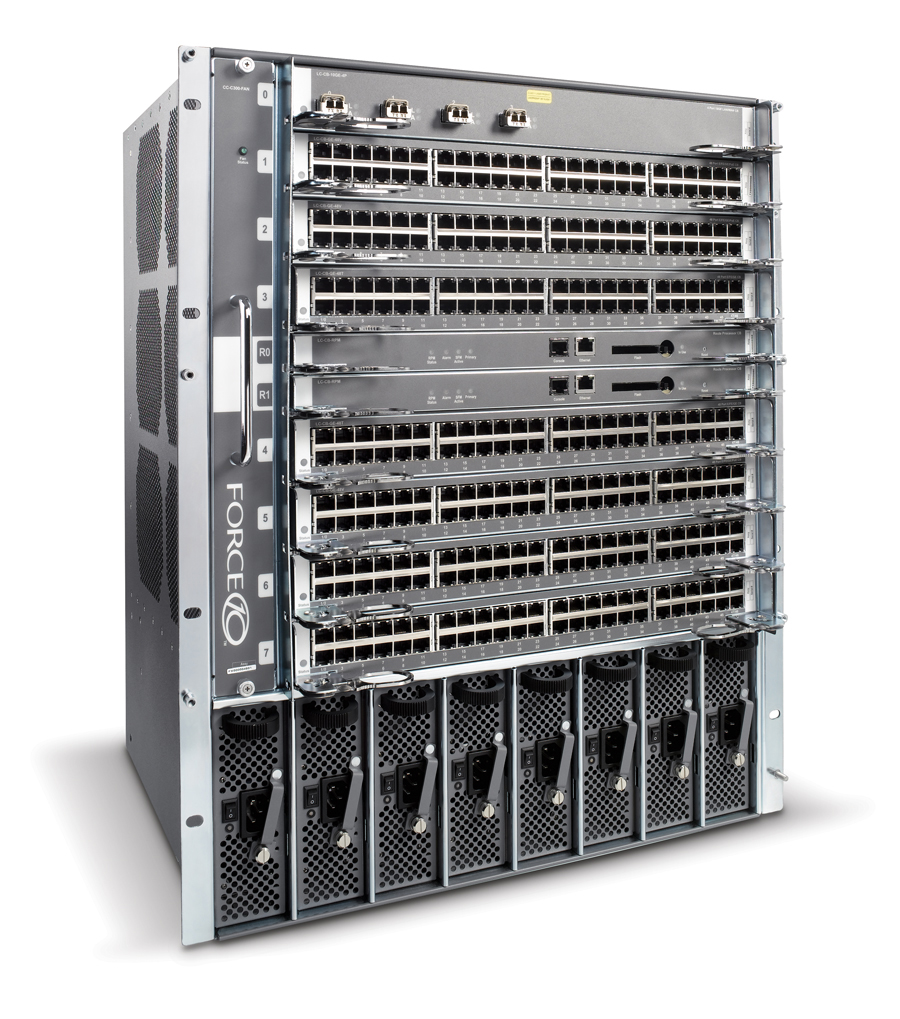 The Force10 Networks C-Series are resilient chassis-based switches that deliver reliability, network control and scalability. The C-Series is designed to support mission critical applications with very low latency across converged networks. Comprehensive management capabilities make the C-Series a cost-effective and flexible deployment option.
Key Features
The Force10 C-Series is designed to provide inherent reliability, network control, and scalability for high performance Ethernet environments.
Up to 384 line-rate 10/100/1000Base-T ports with full 15.4 W Class 3 PoE support in a 13-RU chassis
Up to 64 line-rate 10 GbE ports with pluggable XFP modules
Suite of security, access control and wiring closet edge features for enterprise networks
VirtualView real-time network and application traffic monitoring for virtualized data centers
PowerSmart intelligent power management features provide automatic sensing, provisioning and management of PoE power
Full complement of standards-based Layer 2, IPv4 and IPv6 features for unicast and multicast applications
5 microsecond switching latency under full load for 64 byte frames
Switch fabric capacity of up to 1.536 Tbps and up to 952 Mpps L2/L3 packet forwarding capacity
High availability architecture: 1+1 Route Processor Module (RPM) design, Continuous runtime data plane monitoring and advanced in-service CLI diagnostic functions, and Power supply redundancy with load sharing power bus enabling uninterrupted VoIP calls during a power supply failure
| Part Number | Description | MSRP |
| --- | --- | --- |
| CH-C150 | C150 4-slot chassis with backplane | Call |
| CH-C300 | C300 8-slot chassis with backplane | Call |
| CC-C150-FAN2 | C150 enhanced fan subsystem | Call |
| CC-C300-FAN2 | C300 enhanced fan subsystem | Call |
| GP-CF-1G | 1G Compact flash memory card | Call |
| LC-CB-RPM | Switch Fabric and Route Processor Module (series CB) | Call |
| LC-CB-10GE-4P | 4-port 10 Gigabit Ethernet line card, XFP modules required (series CB) | Call |
| LC-CB-10GE-8P | 8-port 10 Gigabit Ethernet line card, XFP modules required (series CB) | Call |
| LC-CB-GE-48P | 48-port Gigabit Ethernet line card, SFP modules required (series CB) | Call |
| LC-CB-GE-48T | 48-port 10/100/1000Base-T line card with RJ45 interfaces (series CB) | Call |
| LC-CB-GE-48V | 48-port 10/100/1000Base-T line card with RJ45 interfaces and PoE (series CB) | Call |
| LC-CB-10G-1G-36T | FlexMedia line card with 36 10/100/1000Base-T RJ45 interfaces, eight GbE interfaces – SFP modules required, and two 10 GbE interfaces – SFP+ modules required (series CB) | Call |
| LC-CB-10G-1G-36V | FlexMedia line card with 36 10/100/1000Base-T RJ45 interfaces with PoE, eight GbE interfaces – SFP modules required, and two 10 GbE interfaces – SFP+ modules required (series CB) | Call |
| CC-C-1200W-AC | 1200 W AC Power Supply Module | Call |
| CC-C-PWR-DC | 1400 W DC Power Entry Module | Call |